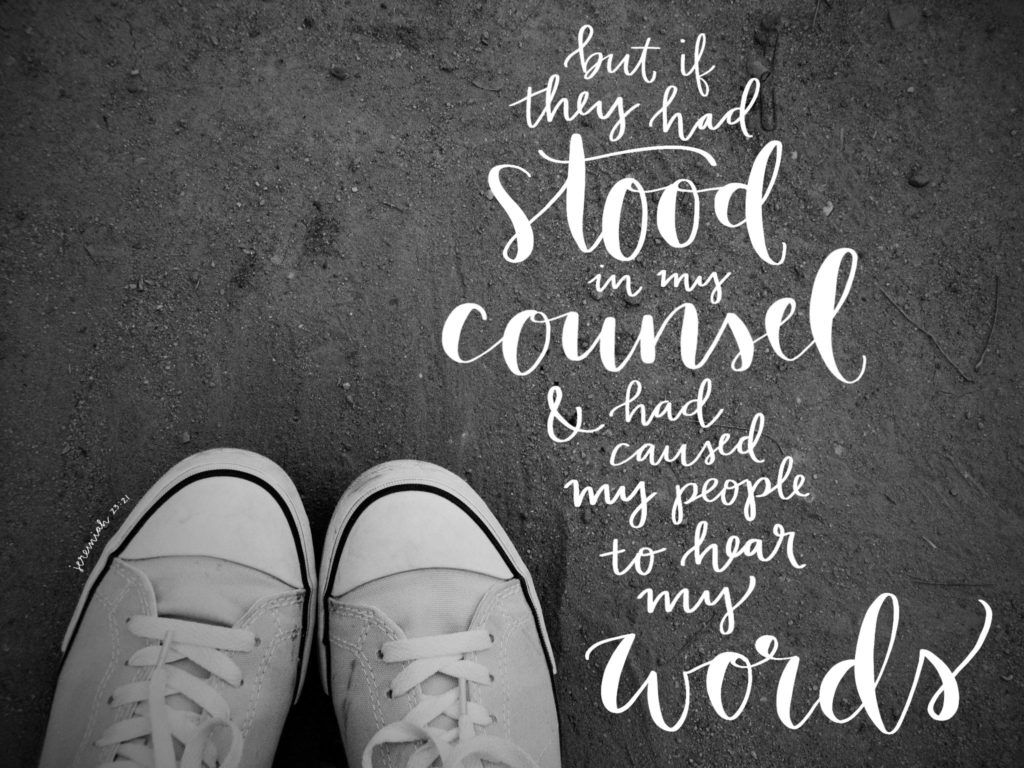 Clear And Present Danger
But if they had stood in My counsel,
and had caused My people to hear My words,
then they would have turned them from their evil way
and from the evil of their doings. –Jeremiah 23:21-22
Of all the dangers facing believers and non-believers alike, false teachers are near the top. Some would even say false teachers are the number one threat when it comes to harming and destroying others.
So how can we discern if someone qualifies as a "false teacher"?
Along with how biblical one is (cp Acts 17:11; 2 Tim 2:15; Jn 17:17), a person's beliefs and teaching concerning sin is one of the best and most important ways to distinguish a false teacher from those who teach the truth. There are three main things to look for:
How accurately they emphasize and handle sin, and explain the consequences of sin—according to Scripture.
How much, and how accurately they emphasize the right solution to sin and its consequences—according to Scripture (e.g., the gospel, the cross, confession, forgiveness, and repentance).
How well their teaching on sin fits in with, is acceptable to, or is liked by "the world" or those of other religions (e.g., by non-believers; by those who reject, if not hate, God and His Word of truth; cp Lk 6:26; Mic 2:11; Rom 16:18)—or the degree to which their teaching regarding sin is rejected and hated by the world (Jn 15:18-19; 17:14; 1 Jn 4:5-6).
Woe to you when all men speak well of you,
For so did their fathers to the false prophets. -Luke 6:26

And [Jesus] said to [the Pharisees], "You are those who justify yourselves before men, but God knows your hearts. For what is highly esteemed among men is an abomination in the sight of God." -Luke 16:15
Common Marks of False Teachers
Here are six common marks of false teachers, particularly when it comes to sin and Scripture.
1. False Teachers Attack God's Word
False teachers, just like Satan in his scheme of deception in the Garden will:
A > Often (subtly) cast doubt on God's Word
B > Have a low view, or adversarial view of God's Word
C > Twist—add to, or take away from—and distort God's Word (subtly or overtly), especially to fit their agenda
2. False Teachers Have An Inaccurate View of Responsibility
False teachers often teach falsehood by giving too little responsibility, or too much responsibility (Acts 15:1ff; cp 2 Cor 3:5-6; Gal 5:1ff), particularly regarding sin. Both ways appeal to our sinful nature.
Those who give too much responsibility can have a large following, but will not be liked by the world.
Those who give too little responsibility will likely have a large following, and be well received by the world and by those with a low or adversarial view of Scripture (cp Matt 7:13-14; 1 Jn 4:5-6; Jn 17:14).
Compare God's Word to Adam with how the serpent cast doubt upon, undermined, and distorted God's Word (and His Authority):
And the Lord God commanded the man, saying, "Of every tree of the garden you may freely eat; but of the tree of the knowledge of good and evil you shall not eat, for in the day that you eat of it you shall surely die." -Genesis 2:16-17

Now the serpent was more cunning [or "subtle" or "crafty"] than any beast of the field which the Lord God had made. And he said to the woman, "Has God indeed said, 'You shall not eat of every tree of the garden'?" -Genesis 3:1
3. False Teachers Minimize Sin
False teachers will subtly or overtly minimize or deny the consequences of sin (just like the Deceiver did with the original sin and deception, where he misled and deceived Eve).
God: "… for in the day that you eat of it you shall surely die." -Genesis 2:17

Then the serpent said to the woman, "You will not surely die." -Genesis 3:4
4. False Teachers Mock Those Who Love Scripture
False teachers will often mock those with a high view of God's Word, even while claiming to love or be "for" them.
False teachers will—sometimes in subtle ways—distort, impugn, if not demonize the character and motives of those who love Scripture, who love the truth, who highly esteem discernment, and who love others according to the truth (similarly to how Satan cast aspersions on God in the Garden of Eden).
False teachers will, more specifically, falsely accuse and condemn the people who warn others of sin and its destruction. Accusations of ill-intent, fear mongering, divisiveness, or the overused label of "hater" are all leveled against those who exercise the discernment Scripture repeatedly calls us to. False teachers, as the Deceiver has done from the beginning, accuse those who warn others of trying to keep them from some extra-special knowledge, status, experience, or blessing.
For God knows that in the day you eat of it your eyes will be opened, and you will be like God, knowing good and evil. -Satan, Genesis 3:5
5. False Teachers Are Enemies of the Cross
False teachers, just like the Enemy, are often "enemies of the cross of Christ" (those who—subtly or overtly—oppose, distort, and change the meaning and purpose of the death and resurrection of Jesus Christ), of which there are "many" enemies.
For many walk, of whom I have told you often, and now tell you even weeping, that they are the enemies of the cross of Christ: whose end is destruction, whose god is their belly, and whose glory is in their shame—who set their mind on earthly things. -Philippians 3:18-19
To be "anti-cross" is to be anti-Christ.
6. False Teachers Preach a Different Gospel
Ultimately, false teachers preach a different gospel. They, like the false prophets of old, will not try, at least accurately, to truly turn people away from sin and its consequences, but will actually minimize the consequences of sin. In so doing, they will fail to turn people toward the one, true God; and instead turn them toward a distorted God, a different gospel, and a different Jesus (cp 2 Cor 11:3-4; 2 Thess 2:9-12; Acts 26:18-20). False teachers strengthen and entrench people in their sins and its destruction (e.g., affirming sin).
Yet, if they were faithful to God and His Word they would have done the opposite.
Also I have seen a horrible thing in the prophets of Jerusalem:
they commit adultery and walk in lies;
they also strengthen the hands of evildoers,
so that no one turns back from his wickedness.
They continually say to those who despise Me,
the Lord has said, "You shall have peace";
and to everyone who walks according to the dictates of his own heart, they say,
'No evil shall come upon you.'"
I have not sent these prophets, yet they ran.
I have not spoken to them, yet they prophesied.
But if they had stood in My counsel,
and had caused My people to hear My words,
then they would have turned them from their evil way
and from the evil of their doings. -Jeremiah 23:14, 17, 21-22
Your prophets have seen for you
false and deceptive visions;
they have not uncovered your iniquity,
to bring back your captives,
but have envisioned for you false prophecies and delusions. -Lamentations 2:14
Questions To Ponder
> Can you think of any popular Christ-followers (authors; bloggers; pastors; etc.) who minimize, distort, or avoid the consequences of sin? If so, how would their "gospel" match up with the gospel?
> Do any of them affirm sin ("strengthen" others in their sin)? If so, how, and to what degree do they do this in the name of "love" or "compassion"?
> What will be the net-effect of their teachings regarding sin, especially for those they may say they are loving?
> How did Paul react to the false teachings and "false brothers" that threatened the "truth of the gospel" in Galatians 2:1-5, 11-14? To what degree did he see compromising as a good or loving thing? How would you have handled that situation?
The Loving Way To Handle Sin
Compare the wrong ways to handle sin that we have looked at above with how a truly loving and faithful teacher handles sin, according to God's Word.
Restore to me the joy of Your salvation,
and uphold me by Your generous Spirit.
Then I will teach transgressors Your ways,
and sinners shall be converted to You.
Deliver me from the guilt of bloodshed, O God,
the God of my salvation,
and my tongue shall sing aloud of Your righteousness.-Psalm 51:12-14

And the Lord has sent to you all His servants the prophets, rising early and sending them, but you have not listened nor inclined your ear to hear. They said, 'Repent now everyone of his evil way and his evil doings, and dwell in the land that the Lord has given to you and your fathers forever and ever.-Jeremiah 25:4-5

When I say to the wicked, "You shall surely die," and you give him no warning, nor speak to warn the wicked from his wicked way, to save his life, that same wicked man shall die in his iniquity; but his blood I will require at your hand. Yet, if you warn the wicked, and he does not turn from his wickedness, nor from his wicked way, he shall die in his iniquity; but you have delivered your soul. -Ezekiel 3:18-19

Repent, and turn from all your transgressions, so that iniquity will not be your ruin.-Ezekiel 18:30

In those days John the Baptist came preaching in the wilderness of Judea, and saying, "Repent, for the kingdom of heaven is at hand!" -Matthew 3:1-2

From that time Jesus began to preach and to say, "Repent, for the kingdom of heaven is at hand." -Matthew 4:17

For I [Jesus] did not come to call the righteous, but sinners, to repentance." -Matthew 9:13

So they [the Disciples] went out and preached that people should repent.-Mark 6:12

" … but unless you repent you will all likewise perish." -Luke 13:5

" … that repentance and remission of sins should be preached in His name to all nations, beginning at Jerusalem." -Luke 24:47

Then Peter said to them, "Repent, and let every one of you be baptized in the name of Jesus Christ for the remission of sins." -Acts 2:38

Repent therefore and be converted, that your sins may be blotted out, so that times of refreshing may come from the presence of the Lord.-Acts 3:19

To you first, God, having raised up His Servant Jesus, sent Him to bless you, in turning away every one of you from your iniquities. -Acts 3:26

Truly, these times of ignorance God overlooked, but now commands all men everywhere to repent, because He has appointed a day on which He will judge the world in righteousness by the Man whom He has ordained. -Acts 17:30-31

To open their eyes, in order to turn them from darkness to light, and from the power of Satan to God, that they may receive forgiveness of sins and an inheritance among those who are sanctified by faith in Me. -Jesus to Paul, Acts 26:18

That they should repent, turn to God, and do works befitting repentance." -Paul to King Agrippa, Acts 26:20

Brethren, if anyone among you wanders from the truth, and someone turns him back, let him know that he who turns a sinner from the error of his way will save a soul from death and cover a multitude of sins.-James 5:19-20

Repentand do the first works, or else I will come to you quickly and remove your lampstand from its place—unless you repent. -Revelation 2:5

As many asI love, I rebuke and chasten. Therefore be zealous and repent. -Revelation 3:19
Questions To Ponder
> What are some ways a person would respond to the verses above regarding sin, repentance, etc. that would reveal their "false teacher" status?
> How often do you hear popular teachers accurately exhort others to "repent"?
> How often do you hear politically correct Christ-followers—whether they are leaders, teachers, authors, or not—accurately exhorting others to repent, if at all?
> Can you think of any specific Christian leaders and teachers who teach accurately concerning sin—who call sin, sin—and the solution to our sin?
> What about your favorite authors, bloggers, and teachers—would any of them, if we use the criteria above, be considered a "false teacher," at least when it comes to sin,repentance,the cross, and the gospel?