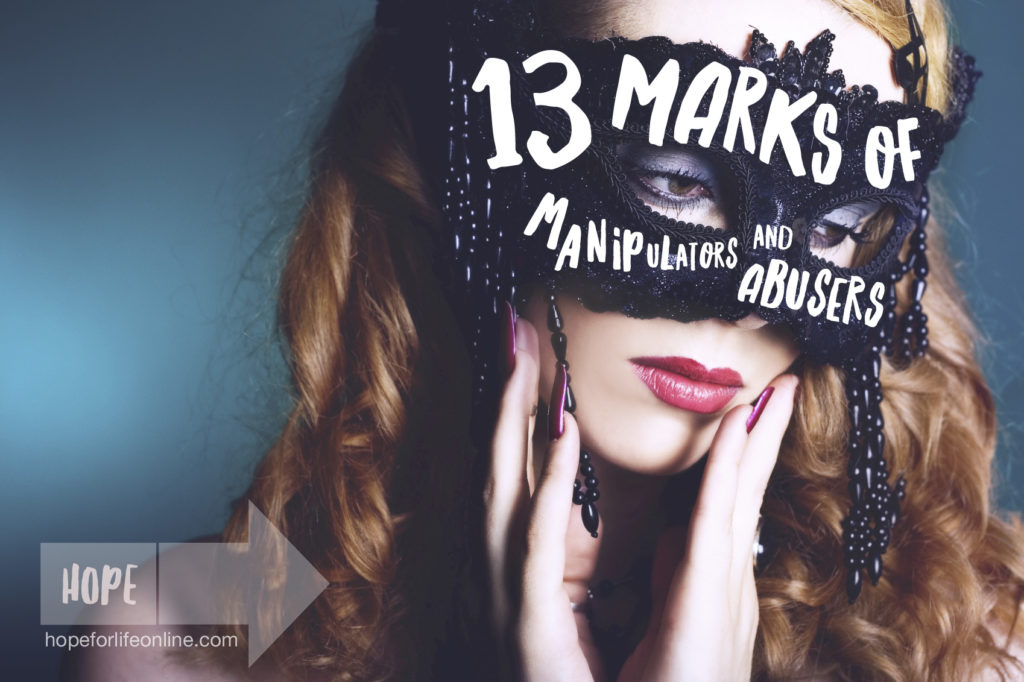 13 MARKS OF MANIPULATORS & ABUSERS
When it comes to relationships, there is an extremely common misconception that forgiveness equals trust. Or, that once forgiveness is offered, the relationship in question is now reconciled.
But in reality (and according to Scripture), these concepts are very different and distinct. In other words, forgiving someone does not mean that one is required to (or even should) "trust" the offender or consider the relationship reconciled on the basis of forgiveness alone.
Not surprisingly, it is often the people that are the most skilled at manipulating others around them that are also the most adept at using and abusing the biblical concepts of grace and trust. With this in mind, here is a partial list of the most common marks of manipulators and abusers. These characteristics also apply to false teachers and "serial" offenders.

1. STUBBORN
Manipulators and abusers usually possess a high level of stubbornness (as well as pride and/or hard-heartedness).
2. AVOIDS PERSONAL RESPONSIBILITY
Manipulators and abusers almost always have a long history and great skill in evading personal responsibility (developed over time, perhaps since childhood). However, they often are also experts in "The Art of Taking Responsibility Without Taking Responsibility" (that is, they "confess," without really confessing —yet convince others that they did confess). The next level up from this would be "The Art of Taking Responsibility Without Taking Responsibility, While Blaming Others For Their Responsibility."
3. HAS A VICTIM MENTALITY

Manipulators and abusers are highly practiced in convincing others (and even themselves) that they are the victim—when they are actually the victimizer. They are also skilled in getting others to be on their "side."
4. KEEPS A LONG LIST OF OFFENSES

Manipulators and abusers tend to keep a long list of offenses (some real, many not real), and they rely on this list (dwelling on it internally and talking about it with others) to justify their behavior, avoid personal responsibility, as leverage to gain victimhood and support from others, or to get whatever they want (i.e., to manipulate).
5. ENABLED BY OTHERS

Manipulators and abusers are often enabled by one or more "enablers of error" in their environment. These enablers are people (usually parents; spouse; friends; family) who have fallen for their schemes of evasion and deception; who fear upsetting them; who have not and will not hold them accountable; and who pressure or guilt others to also enable or give in to the "enabled" manipulator or abuser.
6. VERY CONTROLLING

Manipulators and abusers are often very controlling in general, but perhaps even more so when confronted. However, they tend to blame others for being controlling, especially when their control is being challenged or not given into.
7. RELIES ON EMOTIONAL RESPONSES

Manipulators and abusers display strong, often sharp, emotional responses when confronted (tears, anger, or even rage, along with playing the victim-card), while redirecting the focus, blame, and emotion onto others – especially onto those who confront them.
8. EXPERT IN EVASION STRATEGIES

When confronted, manipulators and abusers will do anything to avoid owning responsibility, including denial, blame-shifting, evasion, lying, answering questions with questions, and almost anything else they can think of. Yet, when they realize they cannot evade their culpability, they often swing to the other extreme, making statements such as, "I am a terrible person," or "I'm a horrible sinner." However, this too is an evasion strategy used to gain pity, redirect, and avoid dealing with their specific sin or failure.
9. INSINCERE CONFESSION

Usually when a manipulator or abuser "confesses," it is either an ambiguous, non-specific "confession" (which, in reality, often blames someone or something else) or covers just enough to satisfy others, "save face," and avoid or minimize consequences (e.g., a "plea bargain"). More often than not, there is no lasting follow through on promises to change (i.e., a lack of true repentance).
10. DISDAINS SPECIFICS

Manipulators and abusers rely heavily on generalities—and avoidance of specifics—when discussing their responsibility. They will also depend on generalities and evade specifics when making false accusations of others (to redirect, play the victim) … so that it is harder, if not impossible, to prove or disprove their charges. While they may express openness to work things out, when asked for specifics, they almost always display sharp, adverse reactions, especially when pressed to address particulars (e.g., they respond with personal attacks, extreme anger, and making the one confronting them feel "crazy"). They usually manage to skillfully and subtly shift things back to generalities or their own victimhood.
11. BLAMES OTHERS

Manipulators and abusers usually blame any unresolved problems in a relationship on others' lack of "grace" and forgiveness, rather than on their own failure to genuinely confess and repent. Instead of owning responsibility, they tend to blame anyone or anything else including: "unfairness," "judgmental and unforgiving people," "Pharisees," "critics," "haters," "hypocritical Christians," etc.
12. SELF-FOCUSED

Manipulators and abusers possess a fair-to-high amount of self-focus, self-concern, or self-centeredness—even narcissism—along with a lack of concern for others and God and His Word (there may be lip service, but not genuine application of truth and love; cp Ps 36:1-4).
13. LACKS SELF-AWARENESS

Manipulators and abusers usually lack accurate self-awareness, particularly when it comes to their sin and patterns of deception. We all reap what we sow, and at some point—through devaluing and evading truth—they become desensitized to truth and reality, especially the truth about themselves (1 Tim 4:1-2; Eph 4:19; Ps 36:2). This is the natural result of frequently living in deceit in order to avoid personal responsibility (e.g., 2 Tim 3:7-8, 13). Consistently circumventing truth is lethal to one's desire for, sensitivity to, and the ability to detect truth—particularly about one's self (Eph 4:17-19). The outcome of regularly evading truth and light is an ever-deepening darkness and deceit (cp Jn 3:19-21). The end-product of knowingly lying, falsely condemning others, emphatically denying reality, and endeavoring to get others to believe these lies is self-deception and willful separation from truth, reality, and God Himself. We cannot intentionally live in darkness and depend on deceit without reaping the deadly fruit—one of which is a lack of accurate self-awareness. This is the inevitable outcome for those who circumvent truth, responsibility, and God's ways of reconciling.
Do not be deceived: God cannot be mocked. A man reaps what he sows. Whoever sows to please their flesh, from the flesh will reap destruction; whoever sows to please the Spirit, from the Spirit will reap eternal life.
Galatians 6:7-8
*Excerpt from a new book on Forgiveness & Trust coming in 2017