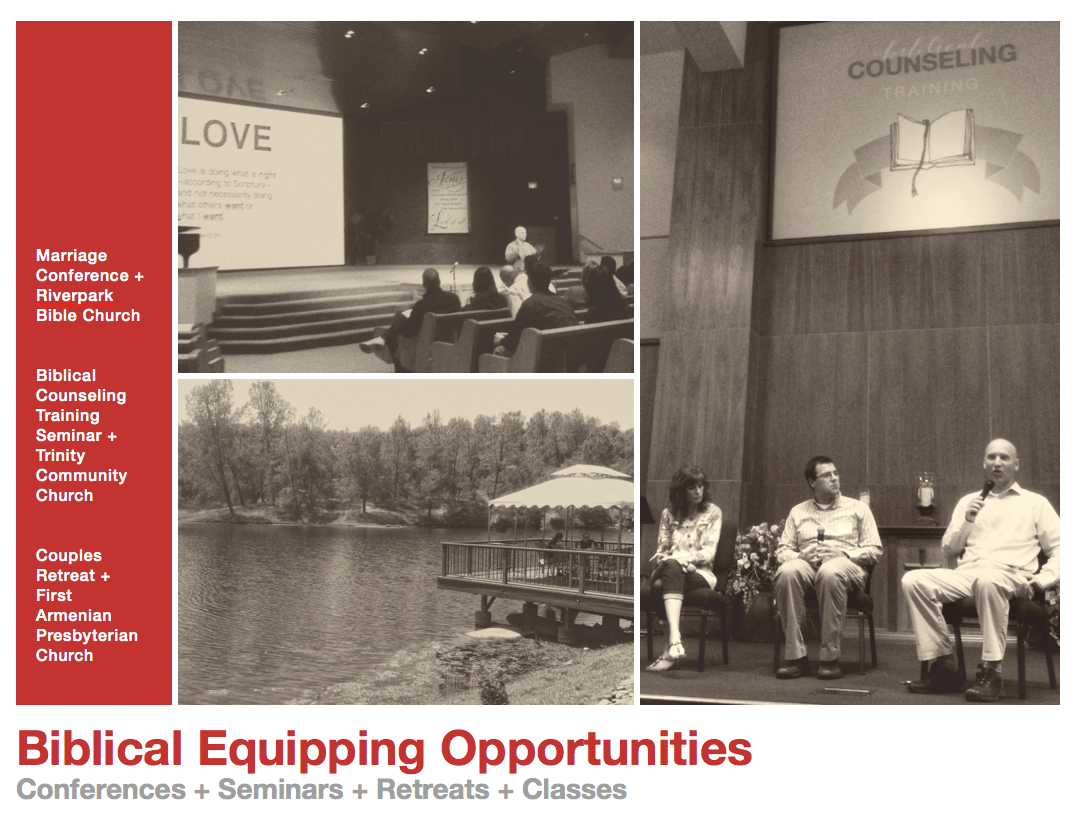 Well, the past few months have been very busy ones for Hope For Life!
We started April off with a two day marriage conference at Riverpark Bible Church, where Mark was able to share solid, biblical principles for love and relationships with couples and singles alike. We were encouraged by the great turnout and the desire people had to put God's Word into practice in their homes and families.
There were several dating couples and singles who came as well – an excellent opportunity to be equipped ahead of time for godly relationships. We heard there was even a marriage proposal that happened right after the conference!
The next weekend we were privileged to facilitate a Biblical Counseling Training Seminar at Trinity Community Church in Clovis, where we were again so blessed by the number of people eager to be equipped with the sufficiency and practicality of God's Word.
We covered a lot of ground in two days, with Mark teaching on topics like love, responsibility, goals, our hearts, and how to help people change.
Emily got a crash course in powerpoint production, and after a few narrow misses in the technical difficulty department, we got rave reviews on the accompanying pictures and diagrams – ideas conceived by Mark and brought to life by Emily. (Many of these can be found on our website as downloadable printable files – for those of you who asked.)
Finally, add in a couples retreat earlier this month and two marriage classes this spring, and we have had the makings for some very full (and very blessed) months. Thank you, thank you to everyone who partners with us in this ministry. Your prayers and support make it possible to do what we do, and we are so incredibly grateful to God for you!
We have also recently had requests to teach a pre-marriage conference for teens and young adults, and would love to hear if this is something you think there is a need (and a desire) for.
One question we often hear when teaching or counseling on the topic of marriage is, "Why didn't I learn these things before I got married?!"
Let us know if you or someone you know would benefit from pro-active, biblical "relationship equipping" like this.
Because of His grace,