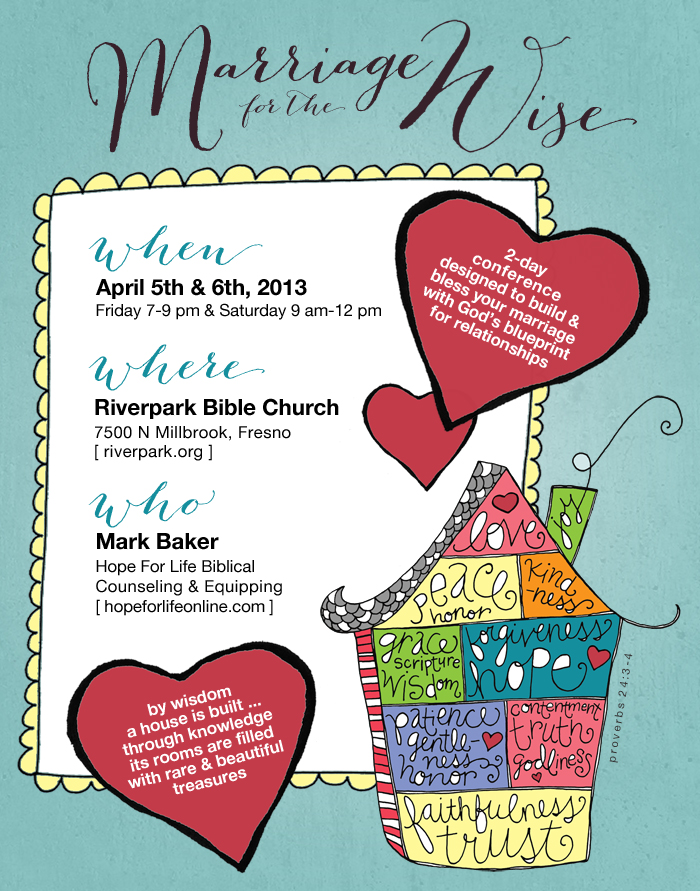 A marriage conference for those
who don't need a marriage conference
… and for those who do.
We're excited to announce a brand new
marriage conference, brought to you by Hope For Life
and hosted by Riverpark Bible Church in Fresno.
Two days of equipping
designed to build and bless your marriage
with God's blueprint for relationships –
regardless of where you're at in your marriage journey.
Whether you're single,
newlyweds, young parents, or seasoned veterans,
this weekend of practical application and fresh insight from God's Word
will equip and encourage you biblically.
Make plans now to join us April 5th and 6th,
Friday evening (7-9 pm) and Saturday morning (9 am – 12 pm)
Registration is only $20 for the full conference,
and you can reserve your spot by calling Riverpark at (559) 435-0190
or register online here.
We're looking forward to seeing you!
by wisdom a house is built …
through knowledge its rooms are filled
with rare and beautiful treasures.
proverbs 24:3-4